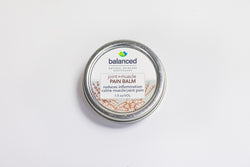 Balanced23
Joint and Muscle Pain Balm
1.5 ounces
For all skin types
Pain relief, Soothing
A powerful blend of botanicals and essential oils that relieves sore muscles, joint aches and pains while relaxing muscle tension. This balm quickly "transports" the herbal essences into the underlying tissue and joints — stimulating smell receptors that send messages through the nervous system to calm discomfort. Packed with antioxidant, antimicrobial and anti-inflammatory properties. The pain easing effects are felt immediately.
To Use: massage a small amount into affected area, rubbing it in until absorbed. Reapply as needed.
Ingredients: lavender (Lavandula angustifolia), burdock root (Arctium lappa), chickweed (Stellaria media), infused olive oil (Olea europaea L.), coconut oil (cocus nucifera), maracuja (passion flower) oil, arnica (Arnica Montana), grapeseed (Vitis vinifera) oil, vitamin E, marjoram (Origanum majorana), lavender (Lavandula angustifolia), black pepper (Piper nigrum), peppermint (Mentha piperita), rosemary (Rosmarinus officinalis), thyme (Thymus vulgaris), juniper (Juniperus communis L.) and ginger (Zingiber officinale) essential oils, beeswax (Cera alba).