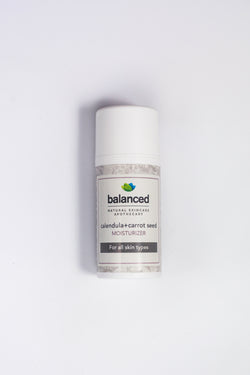 Balanced23
Calendula + Carrot Seed Moisturizer
3 ounces
For dry, mature skin and sensitive skin
Moisturizing, Restorative, Vegan
There are many things that can dehydrate your skin, including severe weather, pollution, how much time spent in the sun, dry indoor conditions. This lightweight skincare moisturizer feeds your skin with prebiotics and probiotics that helps address these concerns. It softens fine lines and wrinkles; it also fades hyperpigmentation (age spots).
A vegan moisturizer, rich with hydrating agents that help combat free radicals (skin agers) and increase cell turnover for smoother even toned skin. Packed with plant sterols (botanicals), natural vitamins, antioxidants, and natural humectants that penetrate deep into your skin's layers restoring skin's collagen for firmer, smoother surface.
Powerful yet gentle ingredients hydrate and plump your skin giving you the appearance of fresh, dewy skin. It softens and intensively nourishes dehydrated skin. Use as part of your daily regimen to recapture your skin's youthful appearance. You'll love your skin—again. 
Vitamin E plus Vitamin B firms and tightens and maintains skin hydration
Vitamin A improves the skin's moisture levels
Vitamin C brightens skin's appearance 
Hyaluronic Acid is super moisturizing, plumps and reduces wrinkles and fine lines over time

Olive Squalane absorbs damaging UVA / UVB rays for natural sun protection
Probiotics e

nhance skin's ability to become—and stay—properly hydrated
To Use: Apply a small amount evenly over your face and neck after cleansing and toning. Use after your serum for optimal results. Gently pat on until fully absorbed.
Ingredients: Lavender (Lavandula angustifolia) hydrosol, purified water (aqua), hyaluronic acid, camellia oil (Camellia japonica), rosehip seed oil (Rosa Canina), olive squalane, evening primrose oil (Oenothera), borage oil (Borago officinalis), calendula extract (Calendula officinalis), glycerin, bisabolol, Lipsome Anti-oxidant Complex, Vit C Esters, vitamin E, carrot seed EO (Daucus carota), frankincense EO (Boswellia carterii), lavender EO (Lavandula angustifolia), palmarosa EO (Cymbopogon martini), Preservative (Leucidal® Liquid SF MAX (probiotic-based preservative).