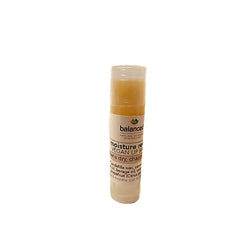 Balanced23
Moisture Balancing Lip Balm
.15 ounces
For all skin types
Moisturizing, Soothing, Botanicals, Hydrating, Vegan
Moisture Balancing Lip Balm is specially formulated to hydrate and lock in moisture to protect against dry, parched lips. It is light, easily absorbed, moisturizes chapped lips. You may also notice that it minimized wrinkles around your lips.
To Use: Apply a light coat of lip balm to lips as needed.
Ingredients: Camellia seed oil (Camellia oleifera), shea butter (Vitellaria paradoxa), cocoa butter (Theobroma cacoa), aloe vera oil (Aloe barbadensis), grapeseed oil (Vitis vinifera), calendula macerated oil (Calendula officinalis), vitamin E, sweet orange essential oil (Citrus sinensis), candelilla wax
.