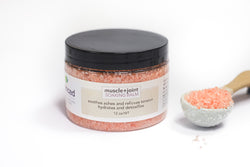 Balanced23
Soothing Muscle and Joint Bath Soak
12 ounces (yields 4 treatments)
Pain relief, soothing
Sea salts and mineral salts stimulate circulation, ease muscle cramps, help relieve stiffness in joints, aid with arthritis or back pain, and soothe achy, overworked legs and feet. Additional benefits are enhanced with analgesic (pain relieving) essential oils that also targets inflammation, and muscle and joint pain.
You will notice an immediately reduction in joint and muscle pain from the very first soak. 
Therapeutic benefits:
detoxifies body by balancing systemic pH levels
improves skin hydration
reduces muscle cramps from trace minerals
relieves muscular and joint pain and inflammation
To Use: add two cups of salts into hot bath. Pour the salt into running water to help it dissolve faster into the bath. Soak in the tub for at least 12  to 20 minutes.
Ingredients: Himalayan salt, epsom salt, marjoram (Origanum majorana), lavender (Lavandula angustifolia), black pepper (Piper nigrum), peppermint (Mentha piperita), rosemary (Rosmarinus officinalis), thyme (Thymus vulgaris), juniper (Juniperus communis L.) and ginger (Zingiber officinale) essential oils.