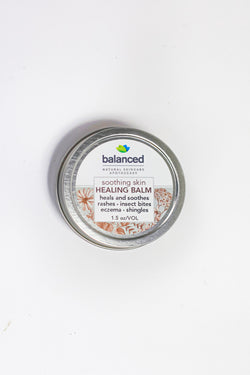 Balanced23
Soothing Skin Balm Salve
.5 ounces
Repairing, healing
A powerful therapeutic herbal blend treats and heals numerous skin conditions. It helps to accelerate the skin's own healing process, soothing dry, cracked, irritated skin. Beneficial anti-inflammatory, anti-fungal and anti-microbial properties work together to help repair damaged tissue, soothe skin rashes and relieve a multitude of skin issues. Can be used on all parts of the body — even your face.
Benefits:
reduces skin redness
calms shingles pain; accelerates healing
soothes insect stings, burns
reduce the symptoms of eczema and rough dry skin
reduces edema (swelling)
To Use: clean affected area well. Apply a small amount to area. Keep area clean and dry. Reapply as needed.
Ingredients: calendula (Calendula officinalis), yarrow (Achillea millefolium), lavender (Lavandula angustifolia), burdock root (Arctium lappa), chickweed (Stellaria media), nettle (Urtica dioica) infused olive oil oil (Olea europaea L.), coconut oil (cocus nucifera), vitamin E, grapeseed (Vitis vinifera) oil, tea tree (Melaleuca alternifolia), lavender (Lavandula angustifolia), bergamot (Citrus bergamia) essential oils, beeswax (Cera alba).