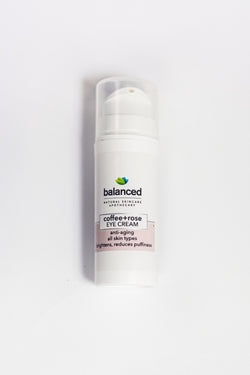 Balanced23
Restore Eye Cream Complex
1.5 oz
For all skin types
Anti-aging, Regenerative, Coffee/Caffeine, Peptide extract, Vitamin C
Image bright, youthful looking eyes. This moisturizing eye cream delivers. It hydrates and restores the moisture barrier around delicate eye tissue. Enhanced with natural ingredients that increase blood circulation, reduce inflammation, and improve skin firmness with a visible reduction of dark circles and puffiness.
Cell-Ox2 Phyto Peptide® actives and coffee essential oil increases blood flow that increase oxygen supply to eye tissue, enhances blood circulation, and reduces inflammation that profoundly improves dark circles and puffiness. Expect to see visible results after only 4 weeks of daily use.
Vitamin C bolsters collagen, elastin production, and connective-tissue-bolstering silica
Vitamin E improves water retention in the skin
Vitamin A improves the skin's moisture levels, reduces wrinkles and fine lines
Polyphenols combat free radicals
Essential fatty acids protect and moisturize.
Olive Squalane absorbs damaging UVA / UVB rays for natural sun protection
To Use: Gently pat a small amount around eye area every morning and night. Massage lightly into skin with the ring finger until fully absorbed.
Ingredients: Argan oil (Argania spinosa), purified water (aqua), rose (Rosa Damascena) hydrosol, pomegranate seed oil (Punica granatum), cucurubu butter, rosehip seed oil (Rosa Canina), olive squalane, evening primrose oil (Oenothera), borage oil (Borago officinalis), glycerin, bisabolol, Lipsome Anti-oxidant Complex, vitamin E, carrot seed EO (Daucus carota), frankincense EO (Boswellia carterii), coffee EO (Coffea arabica), palmarosa EO (Cymbopogon martini), Preservative.