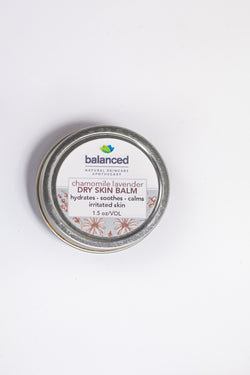 Balanced23
Chamomile + Lavender Dryskin Balm
1.5 ounces
For all skin types
Calming, Healing
A detoxifying botanical balm that calms inflamed irritated skin. This highly emollient skin treatment locks in moisture to help accelerate the healing process. The antiseptic and anti-inflammatory properties soothe and treat numerous skin conditions.
Benefits:
reduces skin redness
softens the appearances of broken capillaries
calms skin acne, prickly rashes
soothes insect stings/bites: relieves annoying itching and decreases swelling
heal burns and treat scars caused by burns or injuries
reduces the symptoms of eczema and dry skin conditions
To Use: apply a small amount on clean, warm, moist skin. Rub onto affected area. Massage using a circular motion. Reapply as needed.
Ingredients: coconut (cocus nucifera) oil, olive (Olea europaea L.) oil, chamomile (Chamaemelum nobile), lavender (Lavandula angustifolia), vitamin E, chamomile (Chamaemelum nobile) essential oil, lavender (Lavandula angustifolia) essential oil, tea tree (Melaleuca alternifolia), beeswax (Cera alba).