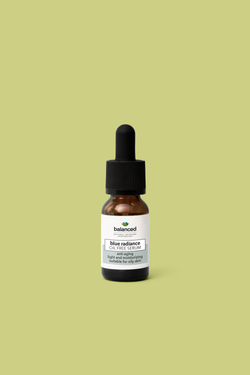 Balanced23
Facial Serum - Blue Radiance Oil-Free
.50 oz
For all skin types  — particularly good for oily skin
Anti-aging, Regenerative, Ultimate Moisture Repair, Vegan, Hydrating, Tansy EO, Oil-free, Hyaluronic acid
Serums are a must-have addition to your skincare regimen. The powerful actives in our regenerative serums reverse signs of aging, reduce wrinkles, and infuse moisture deep within the skin's dermis layers to revive its youthful radiance. This revitalizing serum will soften your skin, and improve its elasticity while also offering antioxidant protection, making it a great choice for anti-aging and all skin types — particularly good for oily skin.
Blue Radiance Oil-free Facial Serum
This lightweight, oil-free serum is enriched with a calming blend of hyaluronic acid and Blue Tansy and Chamomile essential oils. Great for those with oily skin. This serum helps to clear congested pores, kills off acne-causing bacteria, and reduces redness due to skin rashes, rosacea or too much sun. Your skin will be transformed after only five days of continued use.
For your morning regimen: gently pat 3 drops over cleansed and toned skin every morning before applying moisturizer. A little goes a long way.
For your evening regimen: gently pat 6 drops over cleaned and toned skin. Massage into skin with the palms of your hands until fully absorbed. May apply a night-time moisturizer after serum.
Ingredients:
Rose Otto hydrosol (Rosa damascene), purified water, hyaluronic acid, glycerin, Calendula extract (Calendula officinalis), Blue Tansy EO (Tanacetum annuum), Chamomile EO (Matricaria chamomilla), Aloe Vera (Aloe barbadensis)